About us
[ see our store hours ] [ find our storefront ]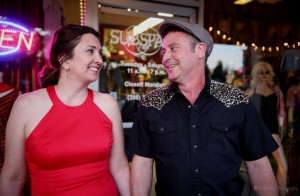 Subspace says, "Wear Your Inside Out!"
By that, we are inspiring people to show a bit of their personalities through everyday attire, as well as at parties & special events.  First & foremost, we are a curated lifestyle fashion boutique.
Subspace was created in 2012 by two local "burners" as a unique shopping experience for the Boise area...and it all started with corsets! We couldn't find quality steel-boned corsets for sale locally, so we decided to sell them ourselves and added other fun alternative fashions to the mix. In fact, we now carry curated fashions from around the globe, including festival wear.
Subspace is the only retail shop in Boise where you can find high quality steel-boned corsets, twill utility kilts, and retro-inspired lingerie. Subspace also outfits the most glamorous retro gals you have seen around town, from shoes & stockings to petticoats & play-suits to dressy cocktail dresses. We like to recall the 1920's, 1950's, 1960's and other fine fashion eras. These are new clothes with new perspectives on times past. This century is moving toward the new Roaring 2020's, and the style is the cat's meow! We've occasionally been told Subspace has the most interesting display windows in town, at 556 S. Vista Ave.
The first Muse that piques our fashion interest is Burning Man and the artistic creations that are seen there: the idea of Radical Self-expression. The ever-evolving steampunk culture has been an inspiration because of its inventor ethic and the science fantasy behind the inventions. Combined with the elegant Victorian & Edwardian fashion influence, steampunk provides an anachronistic & finely crafted "fashion update" that rebels against 21st Century mass-produced consumerism.
In that vein, vintage pin-up, rockabilly, and burlesque styles hearken to an era when folks took the time & care to polish their personal appearance with good grooming and beautiful details. Other sub-cultures from around the world also contribute distinct influences over American style choices. For example, we see a lot of anime, fandom, fetish, and "comic con" cosplay influences in fashion choices these days. Now we're venturing into the realm of mid-century tiki culture and the fabulous revival of flapper styles from the Roaring Twenties! Truly, it is becoming a world of overlapping fashion styles & genres.
This is the "Subspace."