Corset Sizing Guide
Subspace Corset Sizing Guide ~ & Choosing the Right Style!
Many of us women are curious about how corsets can assist with figure enhancement for every-day wear and improving the look of the clothing we have in our wardrobes! Many are also realizing the benefit to the spine and posture improvement of wearing properly fitted corsets. However, when looking on-line for the correct corsets to buy, one can get extremely confused as to what to select. There are often no guidelines to clue someone in to the "best" style or options just for you. I hope to clear the mystery a bit with this guide on how to make such a selection.
My name is Susan and I have been a Fitter Corsetiere for over 6 years in our little clothing boutique, Subspace. We have sold countless corsets to new corset wearers and those who have already begun their corset collections. Invariably, I have been able to correct some misinformation and simplify the use of corsets for our grateful customers.
All of the corsets we sell are steel-boned corsets, with quite a lot of structural details, both in construction and finish. The steel boning is always under a sturdy cotton twill casing, the same as the lining fabric, to protect the bones from contact with the elements of moisture, oils, heat, and cold. The inclusion of steel does mean that a corset cannot be laundered in water, but will need to be sent to a reputable dry cleaner every so often to keep it looking nice. Not too often, and certainly not after every wearing! It will depend upon frequency of use. But the costs associated with dry cleaning also need to be considered when purchasing a corset, say if it is a dark color that hides most minor indications, or a lighter color that will show any marks or soiling more readily. That can make it more expensive to use, in the long run!
These corsets fall into the category of clothing corsets, very different from structured undergarments (like a girdle or body shaper), or "boudoir" corsets. They are sturdy and pretty to wear on the outside to complement your wardrobe. They can be worn over a blouse, a top or dress, or underneath for giving a great figure shape. Be wary of the lacy, ornate boudoir corsets you may see elsewhere, as many may say they have "steel bones", but really only have a lightweight metal busk, and acrylic boning. This will do nothing for your figure as a wardrobe piece and are not even for tight-lacing. They are meant as a sexy enticement and nothing more. Flimsy ones can cost just as much as a real steel boned corset that will give years of wear. Know what you are buying for quality and durability!
Most of the corsets we offer will have a 6" modesty panel that covers the skin or clothing layer underneath the laces in the back for aesthetics and comfort. When fitting, it is wisest to have 3 inches between the lacing grommets when tightened up, as that allows for 3 inches either way: losing a few pounds or gaining a few pounds, you will still be able to wear it correctly laced. Always smooth the panel flat as you cinch. If a style does not have the modesty panel, you would still desire the same spacing between grommets. You cannot make a corset tighter when the grommets meet together in back, and when they are too far spaced, it will just simply be too small to get the proper effect, or to get it tied well.
First off, there are some measurements you will need to know, as well as a basic knowledge of your body type (straight or curvy), torso configuration (long, medium, or short torso), your weight fluctuation throughout the year, and whether you will be aiming to lose inches while wearing your corset (waist training.) You will also need to consider whether you will use the corset often, with a multitude of outfits, or whether it will mainly complement one special outfit.
Waist measurement in inches, just above the navel
Hip measurement in inches
How close are your hips to lower ribs?
Cup size, if over-bust style is needed. (Most are B-cup in general. One brand has different cup sizing.)
Once you have the waist measurement, the corset size is based from that. Steel-boned corsets can cinch smaller than your natural relaxed waist by 2 to 6 inches. Larger sizes can even cinch in more--that is the squishability factor! If your waist is small already, but you'd just like a little more curve definition don't expect more than 3-4 inch reduction. Trying for more than that will cause uncomfortable compression at your ribs or hips. Ribs and hips, like all bones, are the size that they are. Only the softer mid section below the ribs can cinch in without discomfort or damage.
For example, if your waist measures 30 inches, you could aim to wear a size 26 corset. It will fit, and you will get years of wearing it, if your natural waist stays at 30 inches always. Most of us ladies are a little more fluctuating than that, though. So consider that choosing one size down (a 24) could allow you to gradually cinch more in, should you lose a bit of weight, or after waist training, your un-corseted waist might be gently reduced to a 28.
If you have a larger than a C cup bust, please consider that most women prefer the comfort of an under-bust corset to an over-bust one, simply because you can minimize the waist, while enhancing or even boosting the bust, without smashing a large bust flat. That is never a nice thing to do to your bust! With an under-bust design, you will be able to also wear a comfortable and supportive bra for the most flattering look. Under-bust corsets also act more like an accessory to your outfits, rather than a replacement for a "top" so you will get more use from it, as it can change the look of each outfit you wear it with.
If you have a short waist with little space between hip and rib, or are petite in stature, an under-bust "cincher" style may fit best. Look for a cincher with a straighter top edge, as it will fit below the bust area, not cupping up close to your bra's under-wire edge. This shorter length corset style will look better in proportion to your whole body than a longer one would.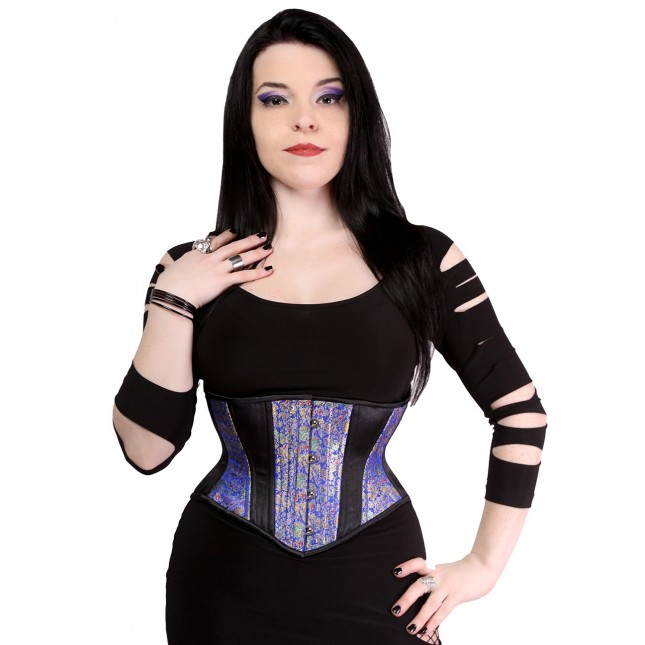 If you already have a curvy shape, with fuller hips and rear, there are new under-bust corsets in the "curvy" silhouette to accommodate your curves nicely, while still doing some shaping. The boning is aligned to be comfortable, even for waist-training. Avoid the curvy ones if you don't have much difference in measurement ratio of waist to hips.
Wearing a corset can be good for your body; for waist management, for spinal support, and for holding the internal organs in a more proper alignment. We never advise waist training to an unrealistic disparity, only for a pleasing natural silhouette.