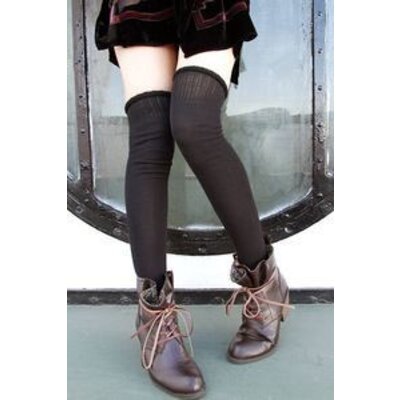 Flat knit wool up and over your knees, ending in a short ribbed section at the cuff. Soften nicely with washing, stay up well, and slouch beautifully. Made in the USA.
Small: US shoe size 7-9 women's, 9-11 men's
Large: US shoe size 11 + women's, 9-12 men's
Stretch, around leg: about 19 inches at cuff, 16 inches mid-sock (both sizes)
Length, heel to top: about 30 inches, unstretched (both sizes)
70% wool, 20% nylon, 10% spandex
Hand wash inside out in cold water, lay flat or hang to dry. Machine washing may cause shrinkage.
Due to their high wool content, after a few warm washings they usually shrink down several inches. To prevent shrinking, wash in cold water and hang them over a towel to dry.