StumpTown Kilts
Men's Khaki Kilt w/ Gun Metal Rivets
Preshrunk 65/35 poly/cotton twill blend utility sports kilt with adjustable waist (by 6 inches). Attachable pockets and front apron pouch pocket. Low maintenance wash & wear, non-curling pleats - machine wash cold & tumble dry low.
More information
Brand:

StumpTown Kilts

Availability:

Make your selection to view availability

Delivery:

Typically ships from warehouse within 5 business days
---
---
TESTIMONIAL
"My StumpTown Kilt is the most comfortable and versatile garment I have ever owned. Warm in the winter and cool in the summer; it is great for all occasions."
Men's STK Kilts from Subspace come with two matching Attachable Pockets—one Small Pocket & one Large Pocket which attach to the Bandoleer!
FEATURES
Adjustable Waist By 6 Inches

Attachable Pockets -
(one small & one large pocket included with STK kilts from Subspace!)


Internal Front Apron Pouch Pocket

Sleek & Slimming Lines (no visible logo on outside of kilt)


Low Maintenance – Wash & Wear - NO IRONING Required

Non-Curling Pleats

Made in U.S.A

FABRIC & CARE
Preshrunk 65/35 Poly Cotton Twill Blend

Machine wash cold & tumble dry low

 
For crisp pleats remove from dryer while slightly damp. Fold in half, fold in half again, smooth pleats with your hand and clip hang.

SIZING
ATTENTION! Your pants have been lying to you. Pants sizing is not in actual inches, your waist is typically 3 to 4 inches larger. Sorry to break it to you. There is a reason they call it "Vanity Sizing". So, be sure to measure for proper fit.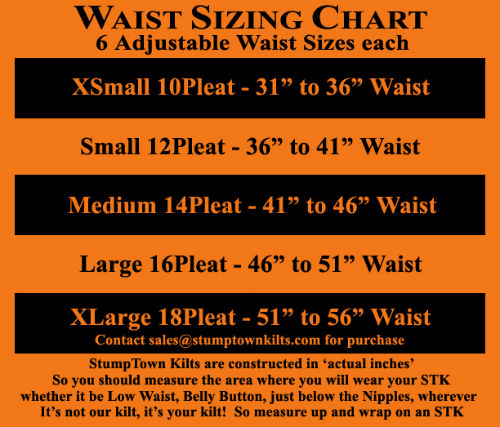 LENGTH
21", 23", and 25" length kilts available. STK Kilts are measured from top of the waistband to the bottom of the pleat.
FEATURES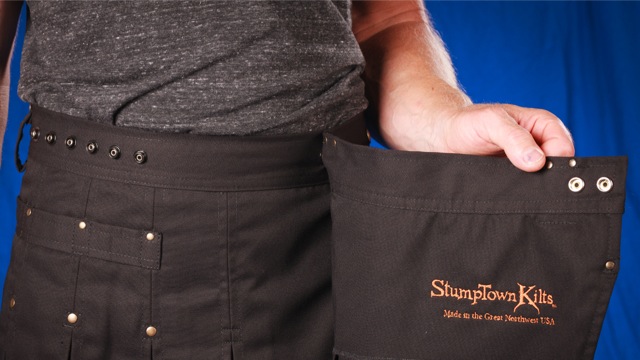 ADJUSTABLE WAIST BY 6 SIZES
Each Kilt comes with 6 inches of adjustability using STK's trademarked snap system. This allows you the Kilt wearer to adjust the Kilt to accommodate for weight fluctuation.


DURABLE FABRIC
7-7.5 Ounce - 65/35 Poly Cotton Twill Blend. Gets softer as you wash it.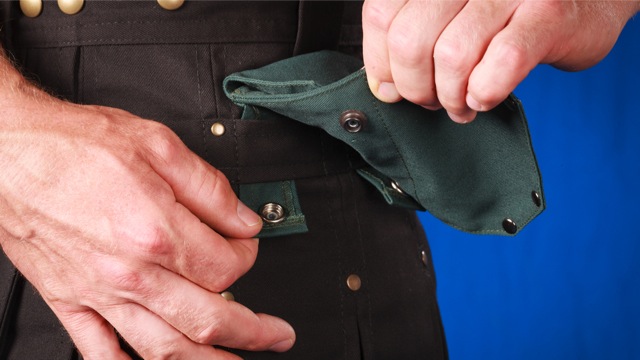 ATTACHABLE POCKETS
Attachable Pockets are more stylized than your typical sewn on floppy cargo kilt pockets, providing plenty of storage for your personal items. Highly functional and durable for rugged abuse on the trail or for everyday wear.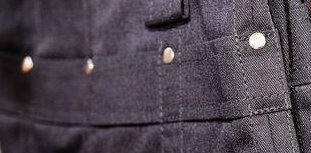 POCKET STRAP FOR ATTACHABLE POCKETS
StumpTown Kilts is the first modern Kilt to offer an attachable pocket strap (bandoleer) positioned along the waistline of the Kilt giving you the option to wear your Kilt with or without pockets. Simply add pockets for more utility and extra storage or without pockets for a sleek dressy look.

It's your Kilt. Customize it the way that best fits your activities or personal style. The bandoleer also provides great attachment points for clips, D-rings, carabiners and alike and is reinforced with bar tacking and rivets for added strength. Each Kilt from Subspace comes with two Attachable Pockets—one Large & one Small. Extra Attachable Pockets sold separately.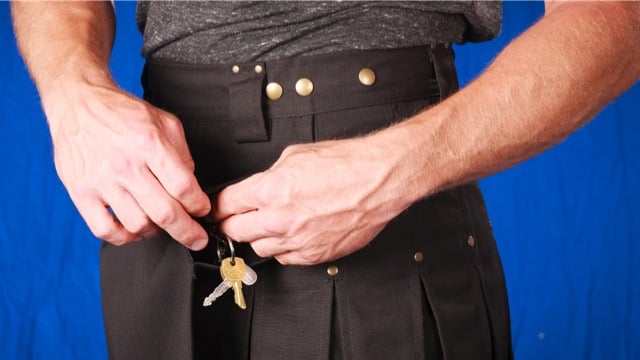 INTERNAL FRONT POUCH POCKET
Deep internal secret pocket located in the front apron of the Kilt. Providing plenty of storage and secrecy... if needed.
ADDED STRENGTH AND DURABILITY
All belt loops and pocket strap are bar tacked and riveted to provide added strength and durability.
LOW MAINTENANCE - WASH & WEAR
STK Kilts are designed for the person on the go. Made of a 65/35 poly cotton preshrunk twill. Normal wash and dry. NO IRONING REQUIRED. Oh Ya! The color holds it's consistency (except the Camo which is made-to-fade) and the fabric gets softer as you wash it - no shrinkage. Durability and comfort.


NON-CURLING PLEATS
Custom pleat design to prevent puffiness or curling of the pleats. StumpTown Kilts utilize box pleats sewn on the inside and outside of the Kilt further preventing curling.